Poolside Tiki Bar & Snack Bar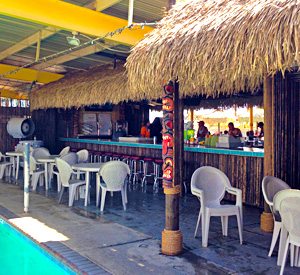 Enjoy some great poolside food and drinks at the Emerald Cove Pool Bar.
What could be better than to be on vacation and have the option of not cooking? At the Poolside Tiki Bar & Snack Bar we serve breakfast specials and everything from hamburgers to hot dogs, chicken and salads.
Feel like having a coke or how about a margarita or a nice ice cold beer to enjoy by the pool, not a problem with our poolside bar serving draft beer specials daily and many other drinks to quench your thirst as you enjoy your relaxing camping vacation!