One Mile Sandy Beach, Riverfront RV Camping, Parker Strip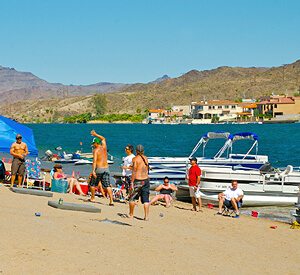 Emerald Cove Resort has over 800 sites. Many of them sit right on the resort's private one mile sandy beach right on the beautiful Colorado River. Riverfront rv sites and riverfront rv camping are just some of the benefits you will find with our beach.
Enjoy building sand castles with the kids or just sit on the beach soaking up the sun. While you dip your feet to stay cool, you can enjoy the scenic views of the water and the surrounding mountains.
BBQing, beach volleyball, swimming, fishing, lounging in the sun, however you prefer to spend your time on the one mile sandy beach at Emerald Cove Resort, one thing is certain, there's a lot of beach to make memories that will last a lifetime with your family! Make sure you visit our Tiki Bar and Pools just to make the day even better!