Emearld Cove Resort History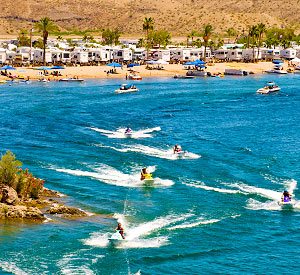 The History of Emerald Cove Resort started as nothing more than a dream and a handful of full hook up RV sites. The hope, was that if we built a resort on the shore of Colorado River that families would come to visit,  fall in love, and want to return. It was a dream. In fact, it was a real " if you build it they will come" story.
We opened the gates at Emerald Cove Resort in 1982 with a few full-hook up RV sites, a boat launch and a nicely manicured beach. We planted some palm trees and put up a sign that said "free camping stop here." And boy did they ever. City folks that wanted a quick get away from the hustle and bustle of their busy lives and Folks from up north that were freezing and wanted a nice place to stay in the sunshine for the winter. As the years pasted we grew. We put in swimming pools, recreation buildings, convenience stores, rentals for your guest and miniature golf courses. With every passing season Emerald Cove Resort improved. Today we are nearly 800 sites on the most beautiful and desirable section of the Colorado. With the only mile of sandy beach as far as the eye can see.  We pride ourselves on our five star rating and work diligent to provide exemplary customer service.
How does something like this happen? We decided what we wanted and we never lost sight of the original goal. From the beginning our dream was that Emerald Cove Resort would be an easy, secure, affordable getaway for families that cherish the RV lifestyle. Come see us, where life just keeps getting better…